QuickBooks Online: 2017 Software Review
---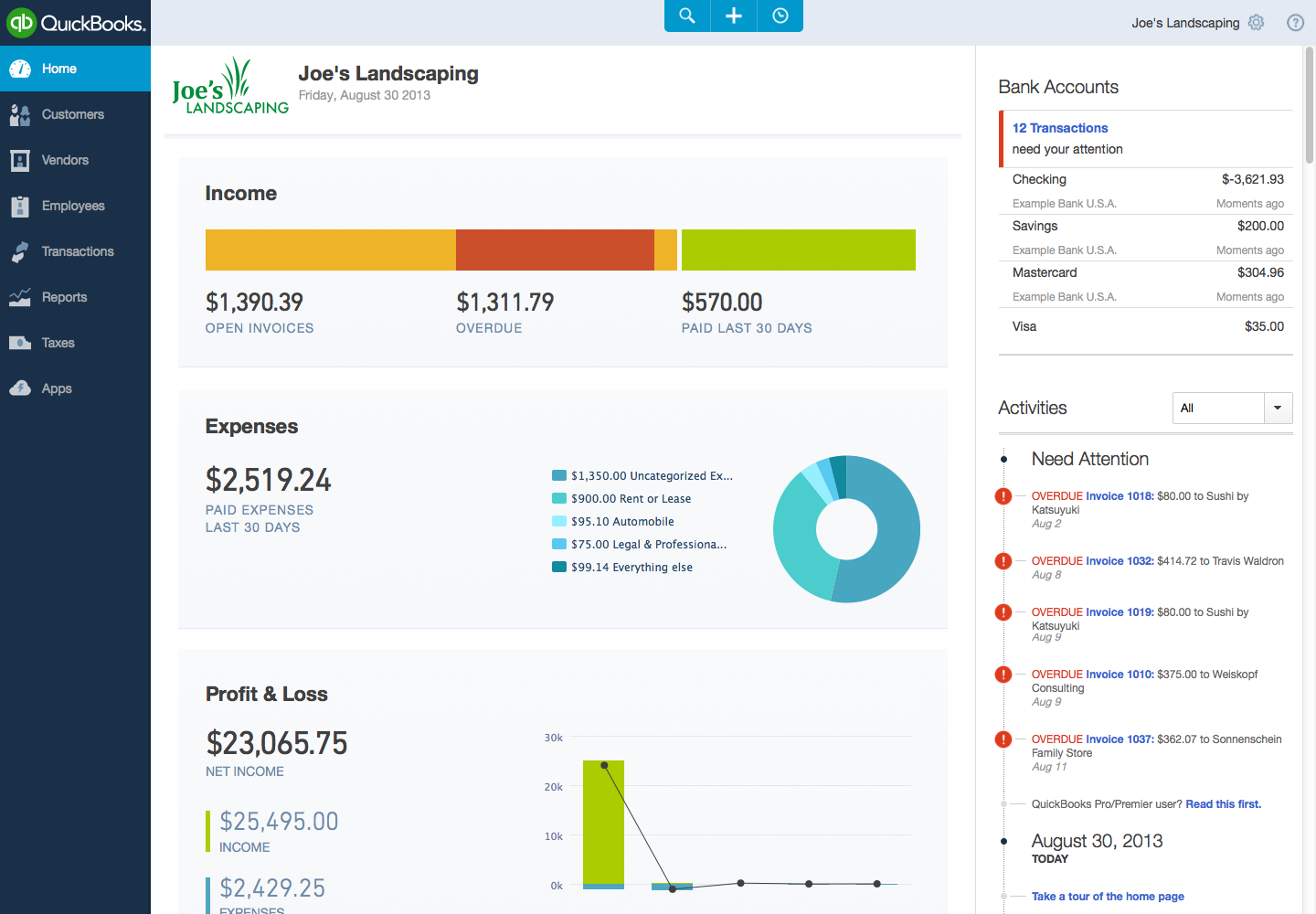 Managing business accounts and books often requires a level of expertise and time investment that small business owners simply cannot afford to develop and maintain. While the ideal solution is often to hire a bookkeeper, a full-time employee doesn't fit into the budgets of many micro businesses, and it shouldn't have to.
Software solutions like QuickBooks Online offer intuitive accounting and bookkeeping tools to small business owners, so you can easily keep your books and accounts in order throughout the year, to complement your part time bookkeeper or CPA. This makes it easier and more cost effective to hand your accounts to a CPA for review and greatly simplifies your accounts at tax time, because everything is organized and in one place.
Intuit has remained a top brand in accounting and personal finance since the launch of their first program Quicken in 1983, but today, their QuickBooks solution is among the most popular accounting software in the world.
If you're looking for an accounting solution, we've taken the time to review QuickBooks Online: 2017 so you can decide if it's a good investment for your business.
What is QuickBooks Online?
QuickBooks online is a cloud based accounting and bookkeeping platform with multiple tiers and pricing levels for different types of users.
QuickBooks Online Self Employed - $9.99 p/month

QuickBooks Online Simple Start - $12.95 p/month

QuickBooks Online Essentials - $26.95 p/month

QuickBooks Online Pro - $39.95 p/month

Each of these offerings includes the same interface, with different features to suit different business types and structures.
Interface – QuickBooks Online offers a smooth, user friendly design with logical layout, making it easy to learn and use. Most of the interface is geared towards users with a small amount of accounting knowledge, but you can use it with none. However, with accounting terminology and complex tax codes, you still need a CPA or bookkeeper to review your books.
Speed – QuickBooks Online 2017 offers extremely quick navigation and search, but entering transactions can take some time.
Support – Intuit offers stellar online and phone support with all their subscriptions
Features – QuickBooks Online 2017 offers over 30 features including over a dozen re-worked or new-to-QuickBooks additions, like "Starbucks Mode" for private use in public spaces.
Create & manage invoices
Track & organize expenses
Track sales and income
Track payments
Create and print checks and invoices with online pay links
Enter and manage bills
Create and send invoices, quotes, and estimates
Automatically calculate tax
Insights
Automated online banking
Data export/import
Multi-device sharing
Cash flow management
Over 30 types of reports
Mileage tracking
Vendor management (due dates, vendor invoices, outstanding invoices)
Payroll
Paperless receipts
Much more
While the specific features you get depend on your QuickBooks Online subscription, you can choose an offering that gives you the tools you need and will use.
Cons
Setup time can be lengthy. While you can just jump right in, QuickBooks online does not have a setup wizard, so you will have to import existing tax software data or add everything manually.
Entering transactions is somewhat time consuming
The program uses accounting terminology, even though most people who use it often do so without full accounting guidance. If this is a problem for you, have your accountant help you set it up.

Pros of QuickBooks Online 2017
Great reporting tools
Very easy to use
Multiple record and transaction types
Customizable report templates
Strong invoicing tools
Payroll for small business
Fast interface
QuickBooks is a low-cost accounting tool that makes it easy for you to keep up with transactions, expenses, invoices and bookkeeping, all in an easy to use, mostly non-technical interface. While it won't replace your CPA or bookkeeper, it will allow you to improve your accounting while spending less time on your daily books. And, with the help of a CPA to review and manage your accounts, you can easily maintain high quality books at a minimal cost to your business.